It's easy to forget that some of the acronyms and tech jargon we use can act as a barrier for new entrants. With that in mind, we've put together an ongoing cheat sheet of the most common terms in the media industry to demystify some of the gobbledegook.
AFD - Accelerated File Delivery is Imagen's, high-speed file transfer service, used by many of the world's biggest media companies to distribute broadcast-quality files to their key clients.
AI - Artificial intelligence, also referred to as machine learning (ML). This technology helps to power automated transcriptions and facial detection in the Imagen platform, speeding up workflows and boosting file archiving efficiency.
API - Application Programming Interface. Imagen's API can be used for system integration and to allow third parties to securely publish and update content in Imagen.
Aspect ratio - The 'shape' of a video frame, expressed as width against height. Many formats exist, and cinema has decided to use different aspect ratios over time. Find out more here.
AVOD - Ad-based Video On Demand, or in other words, ad-supported video, is where viewers are served adverts in order to monetise the content, for example on YouTube and 4OD. It's a popular option for traditional broadcasters and media owners, as it replicates the traditional television model.
CDN - Content Delivery Network. The use of a robust and scalable series of proxy servers, connected by very high speed fibre, to distribute high quality content to the end user. The technique allows very rapid content serving to large audiences, as connections are made to the customer's nearest proxy, rather than all the way back to the physical premises of the media owner. Imagen provides an easy connection to your Content Distribution Network (CDN) when you need it.
---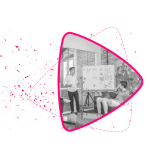 Interactive Questionnaire:
Complete our questionnaire for a personalised diagnostic on the state of your digital assets:


---
Cloud storage - Scalable and flexible pay-as-you-go storage, hosted by a third-party provider and accessed over the internet. In the cloud, server infrastructure, backups, security, updates and expansion are all managed remotely, negating the need for expensive on-premise hardware and IT support costs.
CMS - Content Management Systems enable non-technical teams to operate otherwise complex websites and workflows without having to manage and write the underlying code. Simple CMS might handle just text and images, but more complex implementations will allow video management, either natively or by integrating with a third party, such as Imagen.
Copyright - The legal area related to ownership of a creative work and the rights to control its reproduction, performance, recording, broadcasting, translation and production.
Credit - Credits are used in the Imagen platform to enable the purchasing of content. You simply set values for credits per unit of video duration and set licensing terms to define appropriate usage.
DAM - Digital Asset Management systems allow internal teams to easily manage complex portfolios of rich media content from a central interface. However, they are usually designed for photos, presentations, images and documents, and can struggle with large video files.
DTC - Direct To Consumer. Where your content is delivered direct to the consumer/end viewer without needing to use a middleman. A useful feature of Imagen for content owners.
EOL - When a product reaches the end of its official support period, it's designated as EOL (End-Of-Life). How might this affect your business? How can you avoid it? And, what comes after End of Life?
Facial detection - An invaluable AI tool that can locate and highlight faces in images and video ready for tagging by administrators, so that individuals can later be found via search.
FPS - Frames Per Second or the number of frames displayed during a second of video footage, where higher FPS results in smoother motion perception. Different traditional broadcast frame rates can cause significant compatibility issues.
GDN - If you need to deliver high-resolution video seamlessly across the globe seamlessly, Imagen has developed the Global Distribution Network (GDN) feature. This ensures that high-resolution video is served from a service closest to your employees, so you always get the best (and fastest) connection to your content.
HLS - The built-in Imagen player uses HTTP Live Streaming technology to protect your content and optimise delivery, ensuring viewers receive images at the highest quality.
Ingest - Refers to importing or uploading content into a MAM platform like Imagen. Audio, video and documents can be easily ingested from numerous sources, such as web pages, external storage, and direct from social media.
LTO - Linear Tape-Open is a traditional method of archiving video content, popular due to its low up-front cost, but widely recognised as more restrictive and with more management overhead than cloud-based solutions. Read our blog on LTO vs. cloud storage.
MAM - Media Asset Management - a topic close to our hearts at Imagen, a MAM is a single repository for storing and managing video and multimedia files.
Mbps - Megabits-per-second is a common measurement of a media file's bitrate, or how much information is squeezed into each frame, greatly affecting overall audio and image quality.
Metadata - A search function is only as good as the metadata that you attach to your files. Imagen makes it easy and fast to add this data (allowing you to choose/customise your database fields), so that you can always find what you're looking for.
On-premise - This describes a localised alternative to a video management system in the cloud, where archiving and storage is handled by on-site hardware. While this might sound tempting, on-premise archives require constant maintenance, bandwidth, space and electricity to run.
OTT - Over The Top encompasses direct-to-consumer (DTC), internet-based content delivery. Essentially the same as DTC, OTT implies that the real business value is still in traditional content distribution channels, a position that is increasingly not the case.
PAM - A Production Asset Management system, intended specifically for production use, tracks and catalogues regular revisions to assets in a digital media production workflow.
Proxies - Lower resolution, lower bitrate video content generated automatically, intended for easier downloading, previewing and streaming to people with limited bandwidth (e.g. mobile networks)
RSS/MRSS - Give users the option to receive updates about saved search criteria via RSS (Really Simple Syndication) and also MRSS (Media RSS), which extends the capability of RSS by including links to multimedia files, such as audio, video and images.
RTMP - The Real-time Messaging Protocol is designed for streaming audio and video over the internet, optimised for the lowest possible latency. Imagen uses RTMP to display live streams directly through the ImagenWeb interface.
Spatial annotations - The ability to highlight areas on an image that can be tagged with searchable metadata. For example, it allows the administrator to draw a square marquee around a face and add a name that can be searched for later.
Speech-to-text - Automated transcriptions in any of ten languages, generated by Imagen's AI tools. It allows large volumes of uncatalogued video to be indexed and searched using natural or specific phrasing.
SSO - Single Sign On, the ability for users to log in with a single set of credentials across multiple sites, without being prompted for a separate username and password.
SVOD - Subscription Video On Demand. Consumers pay a flat rate per month for 'all you can eat' content viewing. Netflix being an obvious example.
Transcoder - Imagen's transcoder module automatically converts original or master files into a wide range of alternative file formats, which can be created for distribution or streaming.
TVOD - Transactional Video On Demand - where consumers pay per view. There are many variations on this theme, but the two major categories are Electronic Sell Through, where customers acquire permanent access to content once purchased and download to rent, where a piece of content is available for a limited time only. Sky is a particularly good example here, although Apple and Amazon also use the model in various forms.
UHD/4K - Currently the highest video resolution available on consumer displays. Not all codecs can encode in 4K resolution though. Our in-depth guide to codecs and containers explains why.
VOD - Video On Demand. A collection of video content that can be played by users at any time, exemplified by companies including Imagen, YouTube and Netflix. This can be broken down into the following monetisation categories: AVOD, SVOD and TVOD (explained above).
Watermarking - To prevent replicas of distributed media and to safeguard creators' rights, a graphic or logo can be placed over an image or video. Sometimes a hidden / forensic watermark is used, keeping identified information invisible to the user.